This morning, AlphaBird, a branded entertainment syndication startup, is announcing that it has syndicated 4 digital series from Warner Bros. Television Group's web content arm, Studio 2.0, to Dailymotion. In addition to distributing and selling advertising around the programs, Dailymotion will promote the various series on its homepage every Monday through the end of the year. Ad revenue will be split between Dailymotion, Warner Bros. and AlphaBird.
The deal is the latest example of premium online video being distributed to a third-party with sizable audience in order to build awareness and viewership (part of what Will has called the "Syndicated Video Economy"). As AlphaBird's CEO Chase Norlin explained yesterday, while it's always challenging to create high-quality content, with the fragmentation and noisiness of the Internet, these days an even bigger challenge is gaining audience.
That's the problem AlphaBird - and others - are stepping in to try to solve. Typically AlphaBird negotiates quality editorial placement of branded content at a site level, guaranteeing views, and charging on a cost per view basis. Chase sees the nitty-gritty work of ensuring deep editorial integration to showcase the programs, rather than simply using existing display ad units, as one of AlphaBird's big differentiators (see below for an example of the promotional pages Dailymotion is creating for this deal). He believes this gives the programs more credibility to the viewer and results in higher quality engagement.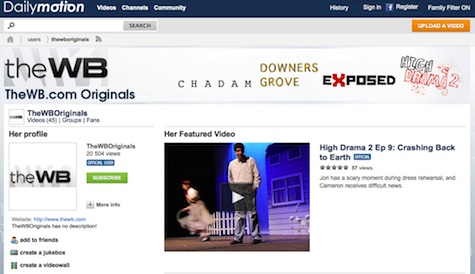 Chase said the new Warner Bros./Dailymotion deal, brokered with a revenue sharing model, is riskier to AlphaBird than its usual deals, but that with a major studio like Warner Bros. backing the content, he felt comfortable experimenting. AlphaBird's primary focus will still be on branded content syndication deals, but it will explore packaging long-form web content and even buying the online rights for certain indie content. The TV analogy Chase uses is King World, the big syndication company that made an early bet by purchasing the rights to the Merv Griffin Show and then found success by syndicating the show widely to local TV stations.
While wide syndication is still necessary to best monetize web video, guaranteeing distribution to a receptive audience - what I would call "smart syndication" - is poised to be even more valuable.
What do you think? Post a comment now (no sign-in required).