Wednesday, September 5, 2012, 10:20 AM ET
|
This morning Akamai is taking the wraps off Sola Media Solutions, a suite of services aimed at content providers struggling to keep up with the steep challenges posed by the explosion of online video content, rapid device proliferation and changing viewer expectations.

Sola Media Solutions replaces the prior "Akamai HD Network" branding. As Ahmet Ozalp, Akamai's VP, Products, Media Division explained to me, Sola builds on the company's traditional CDN strengths, and also introduces new modular services that address particular online video work flow, storage, security and delivery needs.
Sola Media Solutions is comprised of three main elements: Sola Sphere, Sola Vision and Sola Media Analytics. Sola Sphere is the new branding for Akamai's traditional CDN and cloud-based storage, including adaptive bitrate streaming. The framework of Sola Vision includes three areas of the online video lifecycle: "Adapt" (including new capabilities in multi-platform transcoding and stream packaging), "Protect " (including security and DRM) and "Connect" (including new user identity services for business initiatives like TV Everywhere and UltraViolet). All services are available through open APIs to allow integration with incumbent work flow technologies and other ecosystem participants.

With transcoding, content providers can upload a single master file and then simply specify which devices they want to target and the content will be automatically transcoded in Akamai's cloud (an approach also deployed by other providers like Encoding.com and Zencoder). Ahmet noted that Akamai is leveraging its years of content delivery experience and distributed network to differentiate in transcoding quality and responsiveness. The new stream packaging service delivers the appropriately-encoded rendition based on the user's device.

A key goal of Sola Media Solutions is also to support content providers' emerging business models and rules for user access, which is where new identity services fit in. With respect to TV Everywhere specifically, Ahmet see Akamai's identity services as functioning like a "hub" communicating between content providers and service providers to authenticate users to access content. Adobe Pass has emerged as an early leader in this space, last week announcing a 10x increase in streams authenticated in 1H '12. While Adobe and Akamai are partners in multiple areas, Ahmet said Akamai decided to build its own identity service that leverages its architecture and gives customers additional choice.

Last but not least, Sola Media Analytics provides customers insight into user engagement in real-time and post-event. All of Sola's functions are managed using the web-based "Luna Control Center."

With the launch of Sola Media Solutions, Akamai is more explicitly breaking out specific value-added services from its core CDN. This should allow the company to more easily address individual content customers whose needs vary widely depending on their sophistication with online video and technologies already in use.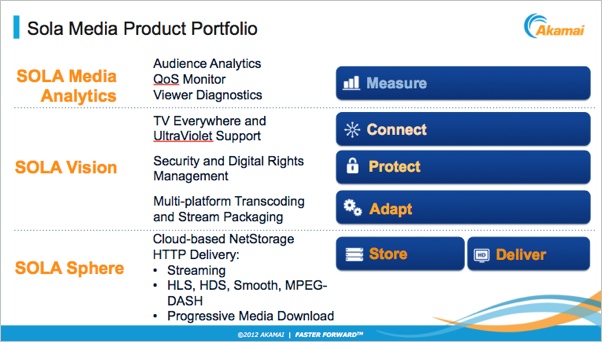 (Note: Akamai is a VideoNuze sponsor)