5Min, a leader in online video syndication, will distribute its 200K lifestyle and how-to videos to aggregator Dailymotion, in a partnership deal announced this morning. For 5Min and its content partners, Dailymotion with its 66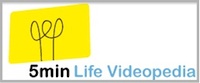 million monthly unique visitors, offers a huge additional audience. For its part, Dailymotion gets a curated library of premium quality content across 21 categories such as sports, health, travel, games and others. A quick check of Dailymotion today indicates the 5Min integration is not yet live.
5Min has been an early leader in video syndication, using its "VideoSeed" technology to understand publishers' text pages and then contextually match relevant content to them, from content partners like IGN, Hearst, Meredith, Scripps and others. Premium content providers have been attracted to work with 5Min because it drives significant incremental viewership of their videos beyond their own destination web sites.
Bringing content to audiences instead of audiences to content is at the heart of the "Syndicated Video Economy" concept that I coined a while back. The model clearly works; according to comScore, 5Min served 130 million video streams to 42 million unique viewers in July, 2010. 5Min CEO Ran Harnevo has told me in the past that only a small percentage of these views occur at the company's own web site.
5Min also recently announced a distribution deal with Answers.com. No doubt others will follow, fueling a nice virtuous cycle for 5Min: more distribution leads to more views leads to more content partners and so on.
What do you think? Post a comment now (no sign-in required).