Tuesday, February 25, 2014, 11:35 AM ET
|
Disney launched its long-planned digital movie service today, dubbed Disney Movies Anywhere ("DMA" for short). Disney made a bold decision when it opted not to participate in the UltraViolet consortium that includes 6 of the other big Hollywood studios, choosing instead to go with its own "KeyChest" authentication technology. Having spent some time with Disney Movies Anywhere this morning, I think there are 5 reasons that DMA looks like a winner, offering lessons for other content providers seeking to capitalize on paid online models.
1. Great user experience - First and foremost, DMA offers a solid user experience on the desktop with big, bold graphics that strongly emphasize the movies themselves and which most kids will understand. The experience reminded me a bit of HBO Go; clearly both Disney and HBO understand the value of a well-designed, immersive experience.

Starting up was easy, I signed in and was then prompted to connect my iTunes account (more on that below). There's also a video explainer which is a nice touch. Disney is offering as a bonus "The Incredibles" which immediately appeared in "My Collection." When I watched it also included chapters to help navigation. You can easily browse the 420 movies from Disney, Pixar and Marvel using the "Browse" tab or can search for specific titles.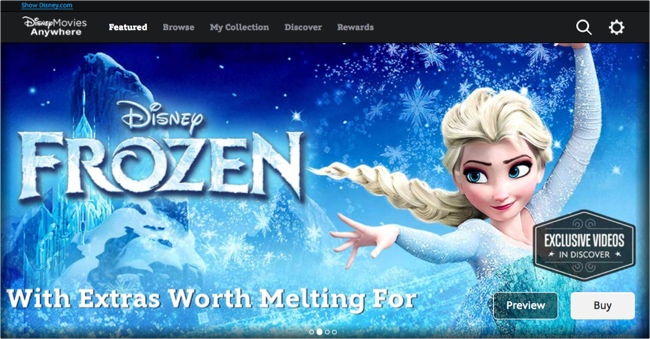 2. Integration with iTunes - Disney has wisely started with iTunes as its commerce partner, which dominates the electronic sell through market. When you click to buy a movie, DMA opens iTunes. Then when you buy a movie, it shows up in both your iTunes and DMA collections. This is an important point, because you don't necessarily want your kids rummaging in your iTunes account; DMA in essence functions as the kids' sandbox, which is especially valuable on the mobile apps (more below).

3. Disney apps and the value of branding - in addition to the desktop, DMA is also available as an iOS app for iPhone, iPad and iPod touch (AirPlay too, of course). Per my point above, this means that kids can stream movies from the collection whenever they're connected. Importantly, movies can also be downloaded, which means even when there isn't connectivity (or it isn't sufficient), kids can watch. All of this is a huge part of the cloud/digital locker value proposition. Gone are the days of needing to remember to pack the DVDs or carry the DVD player. Now all a parent needs is the iOS device (or soon no doubt Android or others).

It's also worth mentioning that the mobile apps are a critical way that Disney is exploiting its well-known brand. With the apps, DMA is an all-in-one solution - kids will come to learn that movies can be bought and played back within the service, all along reinforcing the Disney brand.

4. Early window - To help boost DMA's appeal, Disney is offering "Frozen" several weeks before its Blu-ray/DVD release. Disney has done the same with prior movies, and this is a key step in demonstrating DMA's appeal. While there's a lot more value in digital ownership than DVD, the price point (for Frozen at least) of $19.99 is still relatively high. But this is where Disney has an advantage - kids' movies are watched repeatedly, so owning actually makes sense vs. renting.

5. DVD transfer - Disney has included codes in DVDs that allow owners to gain online copies placed in their DMA collection. This means DMA gets immediately value - and usage - before any purchase needs to be made. This will help users understand the value of "buy once, access anywhere" before needing to open their wallet. That's a big plus for any paid service.

Though there are clear benefits to users for an aggregated approach, in this case I think Disney actually made the right call going it alone. Their brand and catalog are strong enough and with DMA, Disney controls the full service. Plus the Apple-Disney relationship means Disney was able to get the largest EST store on board day 1, something UV still hasn't done. DMA is going to be another proof point for consumers in demonstrating the value of anywhere access and therefore should really help the digital ownership model.