Wednesday, May 30, 2012, 10:58 AM ET
|
I am super excited to announce two additional fireside chats at the VideoNuze Online Video Advertising Summit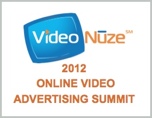 on June 19th in NYC - one with News Corp's Chief Digital Officer, Jon Miller, and another with Comcast's SVP/GM, Video Services, Marcien Jenckes. Each plays a key role in driving their respective companies' digital video, advertising and technology strategies.

Jon came to his position at News Corp. (where he serves on Hulu's board) after previously starting a VC fund, serving as AOL's CEO and doing stints at IAC, Viacom and the NBA. Marcien oversees all aspects of Comcast's 20 million subscriber video business including on-demand and its new "X1" video platform which is unifying the entertainment experience across connected devices. Prior to Comcast, Marcien ran the media business at Grab Networks and was a senior executive at AOL.

Both Jon and Marcien are as plugged in as anyone I know and Summit attendees will benefit greatly from their perspectives. Having spent lots of time talking about how the video industry is evolving with both of them, I'm confident they'll be candid and insightful, adding huge value to the Summit program.

Learn more and register now!