Monday, March 22, 2010, 9:21 AM ET
|
This morning Hillcrest Labs is announcing its new "Kylo" browser, providing people who connect their computers to their TVs with an optimized and complete on-TV Internet browsing experience. Kylo is being offered as a free download by Hillcrest, the maker of the "Loop pointer," a clever "in-air" mouse. After downloading Kylo and connecting my Mac to my TV over the weekend, I was quickly navigating Kylo with a Loop. Taken together, Kylo and the Loop deliver an inexpensive, yet high-impact online video/TV convergence experience.
As Dan Simpkins, Hillcrest's CEO and founder told me last week, Kylo strives to deliver the simplicity required for a satisfying on-TV experience with enough of the most-often used features of computer-based browsing. As such, the first thing you notice about Kylo is that all of the buttons and text are a lot bigger than with standard browsers like IE, Firefox, Safari, Chrome, etc. The layout is also a lot cleaner, with all extraneous text and navigation found in these other browsers stripped away.
With Kylo you can navigate to any web site, either by clicking on any one of the 125 or so pre-set, scrollable logo buttons Kylo conveniently includes, or by using the on-screen keyboard. The keyboard takes a little getting used to, mainly because the Loop requires only minimal wrist gestures to move the pointer around. To be sure, typing on a virtual keyboard like this will never be as easy typing on a full keyboard, but then again the idea here is to eliminate the need for keyboard on your coffee table. My bigger issue (and really the only Kylo drawback I could find) is that the text box used for searching is relatively small and hard to read, at least on our 23-inch office TV. Kylo also allows standard browsing features like bookmarking, zooming and full screen viewing modes.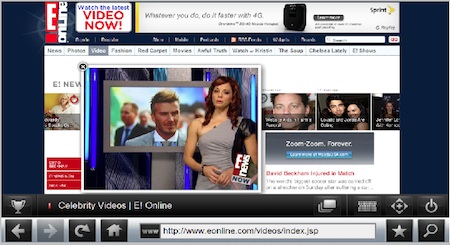 Hillcrest is looking to leverage the growing number of U.S. homes (estimates vary, but certainly in the millions already) that have connected their computers to their TVs. Some of these people are "cord-cutters" who have dropped their subscription TV service, but many more are just trying to enjoy Hulu, Netflix, YouTube or other online video sources on their TVs instead of solely on their computers. When I connected the 2 devices a while ago, one of the first things I realized is that because the computer is next to the TV, not to me, there's a new need created for a remote control to control the computer. Though I have the Apple remote, it offers only limited functionality.
Dan explained that while Kylo is free, Hillcrest's real objective here is to create stimulant for Loop sales. While you can navigate Kylo using any mouse, it's a whole lot easier (and cooler) with the Loop. Plus having the $99 Loop means you don't have to have a mouse and a mousepad on your coffee table. My kids and I got the knack of the Loop pretty quickly and we were able to watch Netflix and YouTube content right away. The Loop offers an inexpensive functionality upgrade especially in college dorms where the computer is now often the de facto TV.
The Kylo/Loop set-up is further evidence of the inexorable convergence of online video and TV. However, the underlying need to connect the computer to the TV shows that there are still inconveniences to be resolved. The ideal solution here is an all-in-one box that seamlessly blends online and on-air programming with all the Internet functionality users expect. For a variety of technology and business model-related reasons we are still years away from that solution. However as consumers adopt solutions like Kylo/Loop, pressure will build on service providers to deliver the all-in-one solution. That means that eventually (by end of this decade?) the distinctions between online and on-air will become meaningless.
What do you think? Post a comment now (no sign-in required).