Media measurement firm Visible Measures has introduced another clever way for brands to follow the success of their online video initiatives, called "Share of Choice." A play on the "Share of Voice" concept in the offline media world,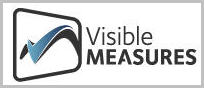 Share of Choice measures the frequency of consumer viewership of brands' online video ads and content. Share of Voice lets brands measure their own success as well as track competitors' efforts.
By understanding consumers' online preferences and social behavior, brands get up-to-date insight on how well their video is performing, and what potential changes should be made. Because online video is driven entirely by users' interests, Share of Choice becomes a really good gauge not simply of what ads are running (as in traditional TV), but who's choosing to watch and how often. Visible Measures has segmented Share of Choice into 12 different industry reports with subscriptions available to each. Subscription pricing wasn't disclosed.
What do you think? Post a comment now (no sign-in required).