Innovation in video search continues apace. A new entrant is Veveo, which, upon my first review, looks poised to raise the bar of innovation in this still-evolving space. I spent a couple of hours with CEO/co-founder Murali Aravamudan to learn more about their approach.
I continue to be fascinated with video search and have previously written about current players such as Truveo, blinkx, ClipBlast, Nexidia and TV Guide. I believe video search is the most intellectually challenging part of the broadband video value chain as well as the one with the greatest potential upside for those who ultimately crack this highly complex nut. Video search presents many of the same issues as web search, but layers on additional challenges around relevancy, metadata, user navigation and monetization. Because of the explosion of video choices, users will increasingly rely on video search providers who can expedite retrieval of desired results.
Veveo approaches the key problem of relevancy by trying to emulate some of what's behind Google's vaunted PageRank. As many of you know, PageRank prioritizes relevancy by relying heavily on the number of referring links to a given page. To try to proxy this referral process in the nascent video world, Veveo has developed its algorithms to account for # of people subscribing to a video channel (at say YouTube), user ratings, viewcount, session length and other factors.
Returning relevant results requires a complete index of available video, which has led Veveo to index approximately 125M videos currently. Murali believes is on a par with the established players. The index spans professional video to UGC and short clips to full-length programs.
Though Murali obviously wasn't going to provide too much detail on Veveo's algorithms (not that I'd understand them anyway), their capabilities are on display when running queries at Veveo's beta site located here. Veveo does something I haven't seen elsewhere - notice as you slowly type your query, the search box not only begins autofilling, but new results are also dynamically served up. Even at Google, while the search box will autofill based on Google's anticipation of your intended query, no results are shown until you're done and click enter. For Veveo to be able to do this means its algorithms are both anticipating your query AND simultaneously matching them against its index. Because there are so many videos, Veveo has had to organize them semantically to accelerate the matching process. And don't forget: because there's no client download, the retrieval process is all happening virtually in real time. Admittedly, this process is not being done at scale yet, but Murali is confident that it will perform similarly even when there are millions of concurrent users.
To see what I mean, slowly type "Barack Obama South Carolina Victory Speech" into the search box. By the time you've typed the "t" in South, the most accurate clip (from YouTube) is the 2nd result. When you type "v" in victory it becomes the first. Try the same query elsewhere. You'll get the same results when done, but notice how different the experience is. It's critical to understand that in the search business, the provider's algorithms - which drive accuracy and speed of results - are the two defining competitive advantages. That's how Google blew past all the incumbents, though it was very late to the web search game. Users noticed its supremacy and dramatically drove its awareness and traffic.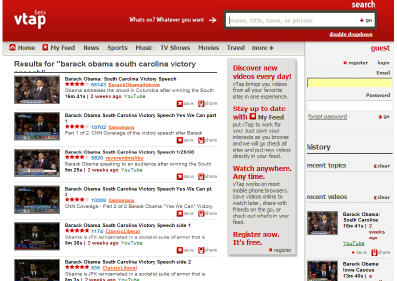 Veveo's business model is to primarily to partner with mobile device manufacturers (it has recently done a
deal with Motorola
) and CE companies (e.g. broadband-enabled TVs, etc.) to create a vtap network, against which targeted ads will be sold (hey, that sounds familiar). Murali believes there's more upside in that approach than simply licensing the software. However, it will license opportunistically, and from other sources I understand that vtap is powering search for Verizon's FiOS video service.
Lastly, Murali shared with me a draft of a white paper he's written which provides insights from Veveo's video index. It's filled with fascinating statistics (I needed to dust off my old stats textbook to fully understand) about today's video landscape and usage across key sites. I'll have the final paper available for download at VideoNuze when it's ready in a few weeks. Veveo has done two rounds with Matrix, North Bridge, Norwest and OmniCapital, many of the same investors who backed Winphoria Networks, Murali's last company, which was sold to Motorola for $175M in 2004. Veveo is definitely a company worth keeping an eye on.