Tuesday, February 10, 2009, 8:30 AM ET
|
The Olympic Games continue to be a prime area of broadband video innovation. Following on the heels of the groundbreaking Broadband Olympics from Beijing last summer, yesterday brought news from Canada's Olympic Broadcast Media Consortium (which holds the Canadian rights to the 2010 Vancouver Games) of even more extensive broadband Olympic coverage at CTVOlympics.ca and RDSOlympiques.ca.
Alon Marcovici, the VP of Digital Media and Research for the consortium told me yesterday that the every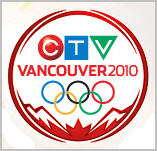 single moment of Olympic competition will be streamed live, so that if you have a broadband connection, you won't miss a moment of the action. I had Alon on a panel I moderated last year at the NAB Show, and his description then of what's involved with this unprecedented coverage was pretty incredible to hear. Broadband has created a whole new workflow, often relying on newer technologies that have not been tested at this scale. It's a bit of a high-wire act, but when it all comes together the payoff for consumers is significant.
For the Vancouver games, the consortium will provide 2,400 hours of online coverage, including a quad-screen mosaic option that will allow the viewer to watch 4 live streams concurrently. Because of the cross-media ownership in Canada, there will be lots of integration with newspaper and radio coverage, as well as bi-lingual (English and French) streams. There's also going to be a real emphasis on user-generated content, such as "Call the Game," a contest where users can overlay their own audio on historic Olympic moments, with entries voted on by other users.
No doubt we'll be hearing more from NBC, which again holds the U.S. rights, about their extensive use of broadband again. Add it all up and the Vancouver Games promise to be another seminal moment in broadband's evolution.
What do you think? Post a comment now.