Tuesday, July 11, 2017, 10:55 AM ET
|
With the launch of numerous skinny bundles, direct-to-consumer OTT services and innovative new packages from incumbent pay-TV operators, it's more confusing than ever for viewers to decide which service(s) are right for them and how much they should pay. For skinny bundles in particular, the confusion is compounded by the fact there's little rhyme or reason to which TV networks are included and which aren't, leading to what I've called the "Swiss cheese" problem of too many holes in their lineups that consequently diminish their value.

To address this complexity, startup Suppose TV has launched a free online tool that allows users to specify their geographic area and which TV networks are most important to them with further filters like DVR availability and device/multi-stream compatibility. Suppose's algorithm considers these inputs and then provides unbiased recommendations on the optimal services, starting with the "Best Fit" service.
I tried Suppose in a number of different ways and was quite impressed with the results. For instance, I started by prioritizing FX, ESPN, Golf Channel, CNN and AMC. The recommendations included PlayStation Vue Core ($44.99/mo) as the Best Fit, then Sling TV Orange + Blue ($50/mo). But then as I individually added each of the local broadcast stations plus PBS, the results dynamically updated. Once I'd added all 5 of them, Dish Flex Pack + Dish Local ($39.99/mo) was the Best Fit, followed by Xfinity Starter 140+ ($68.55/mo).

I then deleted all of these networks and only selected CBS. Sure enough, CBS All Access ($5.99/mo) appeared as the Best Fit. I deleted that and only selected HBO and HBO Now ($14.99/mo) appeared as the Best Fit. I added back CBS and also NBC and then Xfinity Limited Basic 10+ and HBO Now ($41.95/mo) became the Best Fit. Note the inclusion of incumbent pay-TV providers means Suppose is not meant solely for cord-cutters.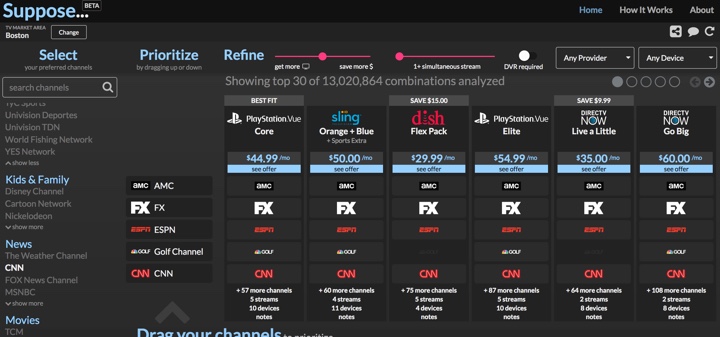 The possibilities seem infinite when you start mixing and matching networks (in fact Suppose says there are over 13 million current combinations it analyzes and it becomes a little bit addictive to try different priorities, with or without DVR, and see the results). While the concept of a la carte is still elusive, Suppose helps create the sense of how much you'll pay for what you actually care about.

Clearly Suppose has ingested a lot of unstructured data from many different sources to drive their database. Co-founders John Tantum and Andrew Shapiro told me in a briefing that this has been done with an extended group of contractors. Entering the data initially is of course just the start; to remain accurate, Suppose now needs to track every time any skinny bundle, for example, makes an update to their package. This is a non-trivial task and far different than what a site like Kayak does in travel where results can be scraped from underlying travel providers.

John and Andrew said they're self-funding the company for now and envision revenue streams that could include advertising and referral fees through affiliate programs down the road. They're focused on having the tool help viewers make the best choices, which will hopefully drive interest from video providers.

One significant feature not yet available is the ability to search by program. As programs become less identified with networks (for example, my son associates "Breaking Bad" with Netflix, where he watched it, rather than AMC, where it originally aired), viewers will increasingly want to know how to access programs, not necessarily networks. This is essential for Suppose to be able to recommend SVOD services as well, because they're not technically networks. John and Andrew said this is the top requested feature by beta users and it's on the near-term roadmap.

Overall, Suppose is a really nice start and as the TV landscape becomes increasingly confusing with viewers focused on saving money and making the right choices for themselves, online tools will definitely have a place.