Thursday, February 5, 2015, 11:01 AM ET
|
Reuters has taken the wraps off of Reuters TV, a new iPhone-exclusive app that the company is positioning as "a revolutionary mobile TV news service….aimed at a growing segment of the informed, mobile and engaged consumers in their 30's and 40's who value authentic video storytelling and are too busy to watch traditional TV news."

While Reuters TV is hardly the first provider to offer mobile video news (see, for example, Newsy and NowThis News), it is yet another sign of the growing influence mobile is having as a platform for all kinds of video-centric news apps. Just last week, Snapchat introduced its elegant, and video-rich "Discover" feature, also targeting younger users who have no affinity for traditional TV news. This is a demo that BuzzFeed, in particular, has successfully targeted with its video-rich mobile app.
Established news brands are also fully on board the mobile video news bandwagon. NBC recently added 3-6 live feeds to its Breaking News app. CBS News recently updated its iOS app to enable live and on-demand feeds from its newly-launched CBSN digital video news initiative. At a Digital Content Next session I moderated in December, executives from NY Times, CNBC and Conde Nast all emphasized the importance of mobile video news to their growth. News Corp. recognized mobile's potential back in late 2013, acquiring Storyful, a next-gen wire service for user-captured news video.

Having spent some time with Reuters TV this morning (and all of the other services mentioned above), it's clear that mobile video news apps are all about quick news bites for those who want to be up-to-date but not necessarily interested in reading lengthy newspaper articles.

The "Reuters Now" tab provides a 15-second preview of 3 stories to follow, with each running 45-90 seconds (these can be bypassed for additional choices too). Reuters says these stories are algorithmically assembled, but editorially curated, tapping into its journalists in its 200 bureaus. Importantly, they can be downloaded for later viewing. A 10-second video ad for Sonos was inserted after the first 2 stories ran. Reuters says approximately 5% of viewing time will be ads, vs. 25% on traditional TV.

I found the other tab in Reuters TV, "Live Feeds" to be less robust. A live feed of President Obama at the National Prayer Breakfast (the only live feed offered) froze up after just 10 seconds. A subsequent video, of Greece's Finance Minister Yanis Varoufakis at a news conference played flawlessly. It wasn't immediately clear how Reuters TV will handle concurrent live streams.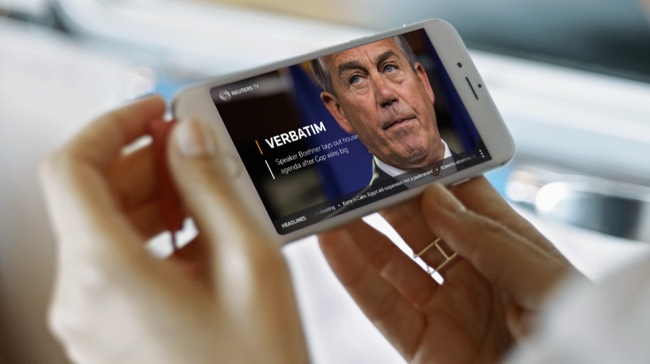 Unlike most other mobile video news apps which are free, Reuters TV will charge $1.99 per month after a 30-day free preview. With news so plentiful, that raises the bar for Reuters TV to differentiate itself. There's no question Reuters TV is elegant and mobile-first in its content approach, but how deep the pool of people of willing to pay is remains an open question (as it is for Vessel, another recently-launched impressive mobile video app, which is charging $2.99 per month).

Just yesterday I wrote about Cisco's forecast for mobile video to grow 13-fold over the next 5 years, to account for 72% of all mobile traffic by 2019. A key part of realizing this forecast is the proliferation of mobile video news, entertainment and sports apps that will drive viewership. These, plus devices like the iPhone 6, and better mobile networks, are all contributing to what is rapidly becoming a mobile-centric world.