Monday, March 23, 2020, 11:43 AM ET
|
A new app called Watchworthy is the antidote for viewers who are overloaded by the bewildering array of program choices in the Peak TV era. Watchworthy, introduced by Ranker, the fan-rankings company, asks for a minimal 30-60 second investment of the user's time upfront so it can start making program recommendations. Viewers are quickly shown a sequence of images for existing programs. Then like a dating app they swipe left/right (or thumbs up/thumbs down) to indicate their preference if they're familiar with them.

Those preferences and the programs' attributes are analyzed against data gleaned from a billion preference votes that have been cast on Ranker over the years to generate the recommendations. Clark Benson, CEO of Ranker, told me in a briefing that there are currently 100-120 programs that viewers can cast preferences on in the upfront process, which can then be translated into recommendations from a pool of 7,000-12,000 different shows.
The recommendations are presented as a scrollable list, ranked by "Worthy" score, and each program includes cover art and data such what category it fits into, how many seasons/episodes exist and most important, how to access the program, with direct links to the services where they're available. For example one of my recommended programs was "The Handmaid's Tale." It showed available on Hulu (subscription) and Amazon, Vudu, etc. (Buy/Rent).

When I clicked on Hulu, the app automatically opened Hulu and prompted me to start a free trial. Another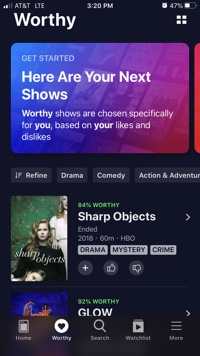 recommended program "Westworld" on HBO prompted me to choose the Amazon Prime Video app where I already subscribe to HBO. Once I did that the app opened and the program began playing. It's very slick. Users can build their own playlists and continually refine their preferences.

The best part for viewers is that Watchworthy is free and it creates recommendations from across 200+ streaming services. So whereas recommendations and rankings within services (e.g. Netflix) have always been useful, Watchworthy breaks down these silos and gives viewers a full market view.

There are a dozen different business models that come to mind for Watchworthy, but Clark said initially they're pursuing two: affiliate fees from streaming services for generating new subscribers and targeting advertising for particular programs (imagine Sponsored Results at the top of your Amazon page). Longer term it is easy to imagine a premium tier, private, API-based versions of the app, data/analytics businesses, date night type options, etc.

Watchworthy is taking a walk-before-you-run approach. For now, from a product perspective it's going to gather feedback on the first version of the app, refine the UI and improve the recommendations (my personal recommendations were solid, though a bunch of programs I'd have expected to be listed weren't, so there is definitely room for improvement). From a content perspective Watchworthy will expand the range of recommendable TV programs and also bring in 20,000 movies that can be recommended as well. The big step forward in utility will be when the app is available on connected TVs, which is slated for later this year.

The whole approach is very smart and directly addresses an age-old, but ever-increasing pain point in the Peak TV era - what should I watch next? And with favorite programs splintering to a variety of SVOD services, it's only going to get harder to find what we want. The risk is that Watchworthy could become a valuable tool enabling viewers to "spin" through SVOD services - subscribing when a new season is up for binging, then dropping the service when finished. Spinning is a concept that is only going to get more attention as virus-related belt-tightening occurs.

For now, as a viewer, Watchworthy makes taking full advantage of Peak TV a whole lot easier. And with the virus keeping all of us at home these days and streaming, an app that can improve our experiences will be welcomed.