Online video continues to make reliving the best moments of your favorite sports teams easier and the latest example is the new "ACC Vault" launching today. Through a partnership of the Atlantic Coast Conference (ACC), Raycom Sports and Thought Equity Motion, an archive of full-length, classic ACC Tournament and regular season men's basketball games from the 12 member programs dating to 1983 are now freely available to visitors (for an example, see the below clip of UNC's Michael Jordan hitting a nice jumper against Duke in 1984). The partners plan to add more sports highlights over time and envision ACC Vault eventually becoming an "all sport video Wikipedia."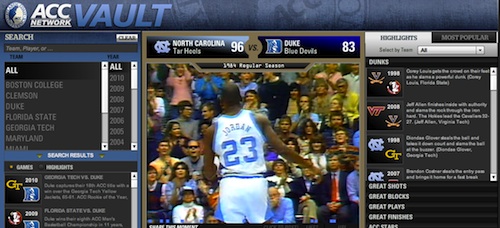 The ACC Vault follows the launch of the NCAA Vault earlier this year, which included an index of every moment in "Sweet 16" NCAA men's basketball history for the last 10 years. Like the NCAA Vault, the new ACC Vault reinforces the importance of metadata as the key indexing tool for long-form video content. By describing each and every play with accurate metadata, Thought Equity Motion is able to create the searchable index that makes specific clips readily accessible. Each play has its own distinct URL so that it can be shared and embedded via social media. As online video usage surges and consumers' expectations for being able to find a specific clip become similar to their expectations when they do a Google search for text or images, metadata is going to become the critical underlying enabler.
At a higher level, the ACC Vault is further proof that online video - and increasingly mobile video - gives content producers and rights-holders an ever-expanding toolkit to monetize their archives and build fan loyalty. No doubt we'll see others build out their own vault-like services too.
What do you think? Post a comment now (no sign-in required).