Thursday, October 25, 2007, 7:19 AM ET
|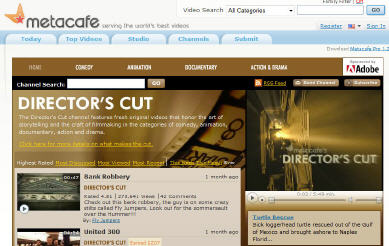 Today Metacafe
announced
the launch of its Director's Cut channel. The channel is sponsored by Adobe and it "showcases short videos made for the interactive Internet medium that honor the art of storytelling and the craft of filmmaking".
Based on answers to several questions of mine that Metacafe executives answered, I sense that behind all those words Metacafe is trying to create its own "virtuous cycle". This is a concept taught in all MBA programs, which describes how various elements of a business can act to reinforce one another. When it occurs, both operational and financial results are optimized.
Here's how I think Metacafe's virtuous cycle, as exemplified by "Director's Cut", could work:
By showcasing their highest-quality producers (as determined by Metacafe's own users) in a prominently highlighted section of its well-trafficked site, Metacafe will no doubt drive lots more views of these videos. These views count for their producers' in Metacafe's "Producer Rewards" program, which in turn results in more earnings for the producers. In theory, greater earnings will result in more loyalty to Metacafe among their best producers. Ultimately this yields an overall better-quality user experience and more overall ad revenues.
If successful, this kind of self-reinforcing program could be a real differentiator for Metacafe as it pursues the short video segment which is its focus. All UGC/video sharing sites, led by YouTube, are trying to ratchet up their video quality from their roots as pure UGC sites. Yet doing so is elusive. Even with the proliferation of the number of video producers, there's always going to be a finite number of really high-quality ones. So helping them genuinely earn a living from their work is a real key to winning their long-term loyalty.
All content providers or aggregators should be thinking like Metacafe in terms of how they too can create their own "virtuous cycles."