Thursday, July 26, 2012, 11:11 AM ET
|
There's a major breakthrough in the TV Everywhere landscape to report - Comcast is "auto-verifying" its Xfinity subscribers' access to NBC's online and mobile video streaming of the Summer Olympics. A Comcast spokesperson confirmed that this is the first time TV Everywhere content is being made available to its subscribers without them having to submit their user name and password credentials to gain access.

This is a real milestone as authentication has been widely viewed as a cumbersome process step for subscribers. That's because many people have not created user names and passwords with their pay-TV operator and/or can't remember them. In addition, authentication systems are not yet stable, often requiring repeated log-ins to the same app, and also across different apps (I've had to repeatedly log-in to every TV Everywhere app I've ever used). Exacerbating things, so much online video is freely available that the TV Everywhere login process feels intrusive for users accustomed to immediately being able to watch.
Auto-verification eliminates all of this, and in my experience it worked flawlessly. I discovered the feature accidentally last night after downloading the NBC Olympics Live Extra app to my iPad. I was immediately prompted to select my pay-TV operator in order to start the authentication process. But after choosing Comcast, instead of getting a log-in page (as I expected), within just a couple of seconds, Olympics video began playing and I received a welcome message. It was by far the best TV Everywhere experience I've had.

This morning I tried the process online at NBC's Olympics site and it was even smoother. Initially there's a default welcome screen to authenticate. But before even being show a list of pay-TV operators to choose from (as with the iPad app), Comcast's Xfinity logo popped up, and without clicking it, auto-verification began and wrapped up within seconds, yielding a "You're Ready to Watch!" message. Very cool.

If you've used any TV Everywhere app, you'll no doubt appreciate what a breakthrough this is. Comcast's spokesperson explained that Comcast is not only verifying your IP address as belonging to them, it is also quickly referencing your account to make sure you're at least a Digital basic video subscriber. Once auto-verified upfront, you're authenticated for the entire Olympics. Obviously the process only works when you're logging in from due to the IP detect, but since most mobile video usage actually is in the home, it's not a big issue. So far, approximately 50% of Comcast subscribers accessing the NBC Olympics video have been auto-verified (the balance when credentials are used is likely due to logging in from work, etc.).

Comcast's spokesperson said the company has actually made available the auto-verification technology to the entire pay-TV industry, but that only Cablevision has so far adopted it as well. When I checked the iPad app there were at least 180 pay-TV operators to choose from for authentication, so that means the vast majority of online viewers will have to suffer through the manual authentication process.

Comcast wasn't ready to commit to saying that auto-verification will be the norm for all other TV Everywhere apps, but to me, it's a no-brainer. The user experience is dramatically enhanced, so it's a win for both content providers and pay-TV operators, and of course viewers. TV Everywhere has gotten off to a rocky start, and authentication has been one of the key barriers to adoption. That makes Comcast's auto-verification a major technical and user experience breakthrough.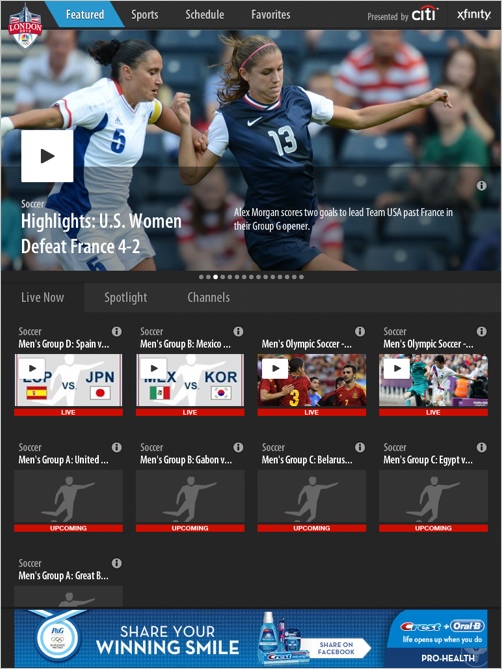 Also see Beet.tv's report last week on how Adobe is involved in the auto authentication process.