Wednesday, October 27, 2010, 10:35 AM ET
|
This morning Kantar Video is converting access to its new Videolytics real-time tracking, measurement and syndication service for online and mobile video from private to public beta. Kantar Video is a relatively new unit of mega-agency holding company WPP but as CEO Bill Lederer explained to me in a demo earlier this week, it brings a very strong brand and agency perspective, as well as WPP intracompany assets to the Videolytics product.
Though adoption of online video is soaring and ad spending is hitting new records in 2010, Bill sees the market as still limited by a lack of comprehensive tools for content providers, brands and agencies to measure the impact of their campaigns by reach and engagement metrics. Videolytics "Track" module relies on both cookies and digital fingerprinting technology embedded in both video players and ad platforms to track users' viewing behavior and then provides detailed tracking and measurement.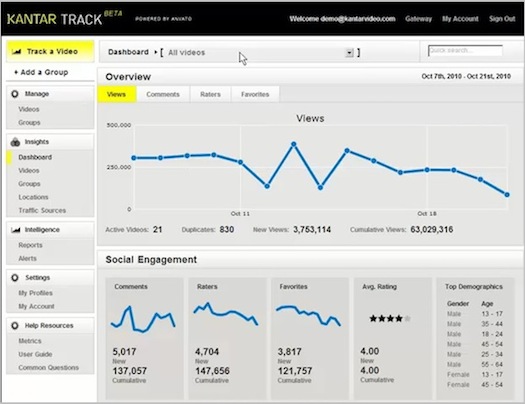 There is campaign-level insight into viewership generated from syndication sources, viral distribution and paid placements. Analytics include demographic, psychographic and attitudinal data, providing a detailed picture of viewers. Kantar has also integrated Videolytics with WPP sister companies Cymfony and Compete to create "Echo Video," which provides behavioral and sentiment tracking for viral video.
A related "Syndicate" module, allows content providers, brands and agencies to select which third parties to syndicate to, and also expands metadata details to pass along to them for improved search and discovery. Analysis can be done to see which video performs best with third parties. One neat feature is the ability to track competitors' video and compare results.
Videolytics is playing in a similar space as TubeMogul, Visible Measures and others like Nielsen and comScore who are key measurement providers. As video becomes a higher priority for brands and content providers, having a full suite of tools is no doubt going to become more important. We can expect a fair amount of jockeying among competitors trying to assert themselves as the go-to solution. Kantar is still new to the space, but given its WPP assets and relationships will be worth watching.
What do you think? Post a comment now (no sign-in required).