Wednesday, May 8, 2019, 12:07 PM ET
|
Early bird discounted registration ends this Friday for the 9th annual VideoNuze Video Advertising Summit on Wednesday, May 29th in NYC. Early bird registrants save $100 and DOUBLE their chance of winning a 55-inch 4K Roku TV.*

Over 30 executives from leading companies including Hulu, CBS Interactive, WarnerMedia, eMarketer, Roku, Cheddar, fuboTV, Group Nine Media, Publicis, Pluto TV, Mindshare, Vevo, Ellation, Univision, Essence and many others will share their insights. The program will feature a mix of keynotes, panel discussions, fireside chats, research presentations and case studies, covering the most critical topics in the industry.

Our keynote guest is Hulu's SVP and Head of Advertising Sales Peter Naylor, who I will interview. We'll be diving deep into Hulu's "viewer-first" operating approach and how this has guided the company to successfully innovate in advertising, distribution, original programming, services and more. With Disney as Hulu's majority owner, the company is poised for even greater success.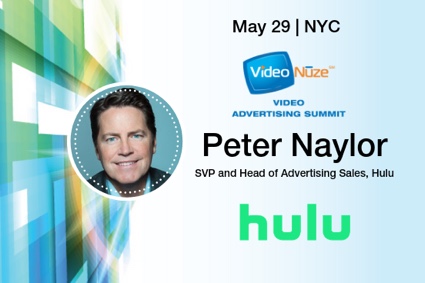 I'm excited to have 10 industry-leading companies on board as partners, including Title Partner Deloitte Consulting; Premier Partners Extreme Reach and Telaria; Headline Partners Beachfront Media, Penthera, SpotX, TiVo and Xandr; and Branding Partners Brightcove and Roku. Come meet them!

As always, the Video Ad Summit will be a premier day of learning and networking for industry professionals.
Don't miss out - learn more and register now!

(*Early bird registrants get 2 entries for the Roku TV drawing.)