Chances are you've never heard of Jake Sasseville. He's looking to change that, and in a hurry.
I caught up with Jake, who is the host of "The Edge with Jake Sasseville," a late-night show that premieres tomorrow night on 40 ABC affiliates around the country. His model offers an interesting case study in how the worlds of TV and broadband are merging. This is opening up lots of new opportunities for talent with the creativity, moxie and financial backing to take advantage.
By way of quick background, Jake is a 22 year-old from Maine who moved to New York and has basically made it his mission to become a big-time multi-platform entertainment personality. He laid the groundwork for The Edge by focusing on YouTube, Facebook, MySpace and the like to begin getting his name out and generate a following. The Edge is part-Letterman, part reality, combining plenty of goofy man-on-the-street interviews with outrageous stunts like taking on a female boxer and stripping down with a nude model. The target audience is clearly 20-somethings looking for a peer to reflect their lifestyles and sensibilities.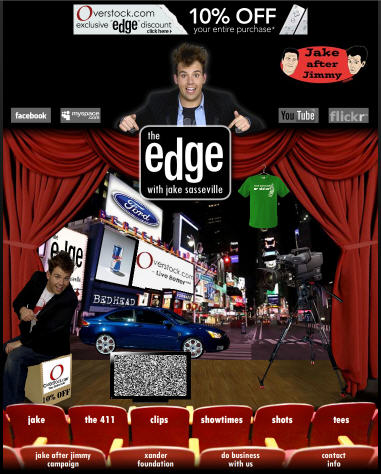 Jake would be just another broadband personality except that now he's self-syndicating The Edge to 40 local ABC stations, paying them somewhere between $150-5,000 per half hour to get his show on the air. He's also been able to convince these stations to give him some on-air promotion and not to list him as paid programming.
Trying to respect his audience's distaste for advertising, he's cut the number of minutes of ads time from 8 to 4 and tried to find sponsors who really want to reach this audience and are willing to be a part of The Edge journey. On board so far are Ford and Overstock, with others in the pipeline. Jake insists that he's not going to get caught in selling on CPMs, but instead is trying to offer sponsors new and creative ways of getting their brands noticed, through additional product placement and multi-platform insertions.
Though he concedes to being short on the specifics of how programming will now flow between on-air and broadband, he's committed to experimenting to figure out what works. For now he understands that TV is better suited to full-length while broadband is better for clips. He has commitments from the 40 stations to do two 13 week series, so the show should be on through the fall. For the first year he doesn't see any big financial gains, rather, it's all about building his brand's awareness with every tool at his disposal.
There has been much speculation about how broadband and TV will merge, yet precious few examples of tight programming integration. Jake is pioneering some interesting terrain with The Edge, which will no doubt yield some key lessons for the rest of the market about how to build an entertainment brand in the broadband era.