Tuesday, October 8, 2019, 11:17 AM ET
|
Hulu announced yesterday that video downloading is now available for its Hulu (No Ads) subscribers. For now the feature will only work with iOS devices, though Hulu said it will be coming soon to Android users. The download feature was first teased at Hulu's NewFront presentation in May, 2018.

Hulu said at the time that downloading would be available for subscribers to its $5.99/month plan that includes ads. Hulu's head of ad sales Peter Naylor confirmed in his keynote interview at the VideoNuze Ad Summit this past May that about 70% of its subscribers are on the ad-supported plan. So that means only the 30% taking the Hulu (No Ads) service, which is $11.99/month will be able to use the download feature, at least for now. There was no word on whether downloading will come to Hulu with Live TV, the company's virtual pay-TV service.
Hulu's download feature will allow subscribers to download up to 25 titles across 5 devices, with 30 days to watch subsequent to download. If a user initiates a play then the title will expire within 2 days.

Downloading to mobile devices has become a hugely popular way to watch OTT video for many reasons such as high-quality WiFi not being ubiquitous, times when no WiFi is available (planes, etc.), limited data plans, etc. Virtually all leading SVOD services including Amazon Prime Video, Netflix, Showtime, CBS All Access and others offer mobile video downloading. However, others like HBO Now and all the virtual pay-TV operators (YouTube TV, Sling TV, etc.) do not yet offer downloading.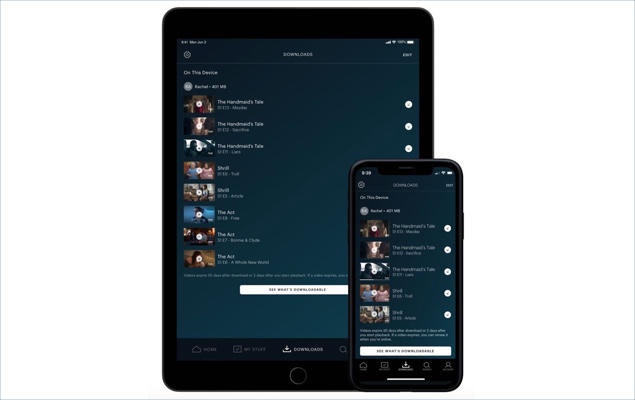 While SVOD providers have mostly embraced downloading, it is much more complicated for ad-supported video services to do so. Downloading would involve updating ads, integrating with ad servers and tech stacks, and limited viewer engagement. Hulu may have decided it was better to at least offer downloading to its No Ads subscribers for now, while continuing to work on the ad-supported solution.

I have been a huge fan of mobile video downloading for nearly 7 years, back to when TiVo first enabled downloading recordings using the TiVo Stream device. I continue to believe that downloading is a killer app for OTT services, because it unlocks mobile use cases leading to greater loyalty and monetization. Downloading will become even more mainstream when Disney+ and Apple TV+ launch, as both have already announced support for downloading (though the latter will almost surely be limited to iOS devices).