Thursday, September 1, 2011, 1:32 AM ET
|
Hulu Japan has gone live, marking Hulu's first international expansion. Hulu Japan runs 1,480 yen per month, or about $19, which is more than double the $8 per month that Hulu Plus in the U.S. runs. However, Hulu Japan is ad-free, whereas Hulu Plus includes the same ad load as the free Hulu.com site. The initial content line-up includes films and TV shows from CBS, NBCUniversal International Television Distribution, Sony Pictures Entertainment, Twentieth Century Fox, The Walt Disney Company (Japan) which includes content from Disney/ABC Television Group and The Walt Disney Studios, and Warner Bros. Hulu indicated that additional content is forthcoming, including Japanese-produced plus other Asian content.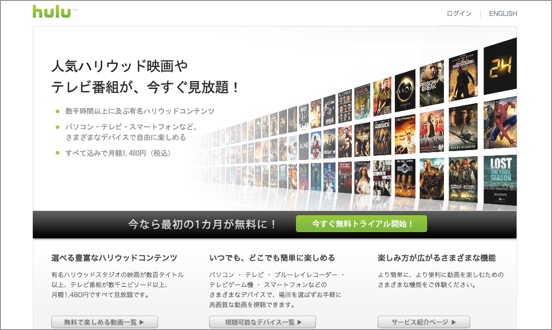 In addition to being available online, Hulu Japan is initially accessible on Panasonic VIERA TVs, Apple iOS devices and certain Android phones from Fujitsu, HTC, NEC, Panasonic, Samsung, Sharp and Sony Ericsson. Hulu noted that content will be accessible on certain gaming consoles, Blu-ray players and Android tablets soon as well. Hulu also announced an exclusive mobile marketing agreement with NTT Docomo, Japan's largest mobile carrier, but didn't provide any further details.
It's hard to predict how well Hulu Japan will perform. On the one hand, easy, legitimate access to prime American TV shows is a big draw, and no doubt the user experience will be top-notch, consistent with Hulu in the U.S. Other the other hand, not having any Japanese programming from day one will be an impediment, plus starting from scratch with a new brand in a new market will require significant investment, at a time when parent company Hulu's future is in flux given the sale process.