Home Shopping Network (HSN) presents an interesting example of a strong incumbent TV-based retailer now seeking to leverage its strengths to succeed in the broadband era. I caught up with John McDevitt, VP of Advanced Services to learn how the company is adapting itself.

For those unfamiliar with HSN, it's the granddaddy of TV shopping services, generating $2B+ annual revenue, with its linear channel now carried by virtually every cable and satellite operator and telco. The Internet has significantly changed the landscape of electronic retailing for HSN, with thousands of e-commerce providers encroaching on HSN's traditional turf. Over the years HSN has continued to bolster its HSN.com web site and do significant cross promotion between on-air and online, to drive awareness and revenues.
With the mass adoption of broadband, HSN has embraced an "everywhere" strategy, comparable to many other content providers. HSN has realized that running a single linear cable channel is no longer sufficient for success. HSN wants to position itself as a credible purchase option wherever the consumer is, offering a simple, straightforward transaction opportunity. The big paradigm shift in broadband is that, while watching HSN on-air is a "destination-experience", in broadband/online, users follow a "product-focused experience." That means that often users come upon HSN not because they are already fans or intended to, but because HSN scored high in search results, particularly in price comparison services.
Delivering a strong video experience is where John sees HSN having a critical advantage given its video heritage. HSN owns all of its video, so it doesn't have any right-related issues. It has built a library of around 25,000 video clips associated with its products; it has already posted over 7,000 of these to YouTube. HSN captures every minute of its on-air experience and every single product on HSN.com has a video associated with it. As John says, shooting great video isn't trivial, between creating the sets, managing the talent and highlighting the product, but these are the things HSN is an expert in. On YouTube in particular, HSN is seeing strong viewership in its channel, with the heaviest action in the health and beauty area, and in how-to related videos.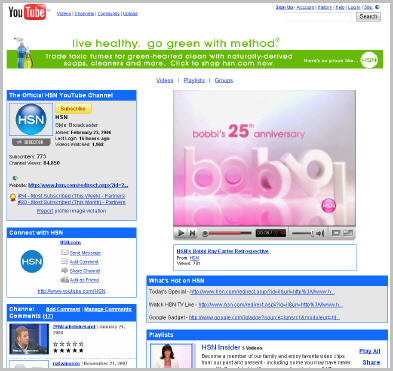 HSN is leveraging its video in lots of other ways as well. It has built out a Media Center edition of its site and also a Silverlight-based version of HSN.tv. In the traditional set-top box realm, it is offering a VOD version and a hugely popular shop-by-remote capability.
In all of these activities, John says the key lessons have been to keep things quick, easy and convenient for customers (this echoes what Bob Pittman said in his interview 2 weeks ago about the importance of convenience). Users love being in control of their shopping; this alone is a big change for a linear-oriented channel. Nevertheless, HSN seems to be getting it. John espouses a "let's try it and see if it works" mentality at HSN, urging action over inertia. HSN seems like another incumbent determined to adapt itself for the broadband age.