Thursday, December 20, 2012, 10:09 AM ET
|
I'm pleased to offer a complimentary download of the "Ultimate Guide to TV Everywhere," a 16-page special supplement that VideoNuze created in collaboration with B&C/Multichannel News magazines. As everyone around the pay-TV and online video industries is aware, TV Everywhere has become a top strategic priority, and when fully deployed, will unlock a broad swath of cable programming for anytime/anywhere access.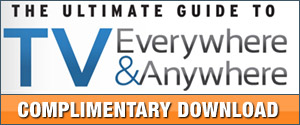 Despite its potential, TV Everywhere's deployment has been uneven to date, as networks and operators have grappled with business terms and operational details. In the guide you'll find interviews, research data, key challenges, infographics and an update on what 5 large cable programmers are already doing with TV Everywhere. We believe it's the most in-depth look at TV Everywhere's current status and is a highly useful resource for anyone with an interest in its eventual success.

Special thanks to the guide's advertisers for their generous support: thePlatform, Tribune Media Services, Clearleap, Synacor, mPortal, Universal Sports and Digital Rapids.