ClipBlast, an up-and-comer in video search, has quietly introduced its "Playbox" feature, which neatly wraps together video search and video syndication, two key mechanisms for increasing video usage. Gary Baker, ClipBlast's CEO gave me a sneak peek a few weeks ago and a demo earlier this week.
Playbox's key differentiator is that it provides a unified video experience across different video providers, while keeping users on-site. When clicking on any result which has video from the web that's embeddable or video from providers that ClipBlast has deals with, a floating window opens on top of the web page.
Playbox plays multiple video format (Flash, WMP, QuickTime) and correctly re-sizes each for the Playbox window. When you click back on the site and select another video it seamlessly loads right into the Playbox window. All of this contributes to a highly unified experience.
While that's pretty cool, the more interesting aspect of Playbox is that it drives frictionless video syndication. Here's how it works:
As ClipBlast distributes its video index and search bar to other sites, Playbox comes along (or not if the site declines it). This means that as ClipBlast's video search migrates from its site to the far corners of the web, Playbox's video syndication spreads too.
Here's an example: say you run a popular blog about auto racing and choose to offer ClipBlast video search and Playbox. A user of the site types "Danica Patrick" into the ClipBlast search bar (for those who missed it, she was the first woman to win an Indy car race, last weekend in Japan).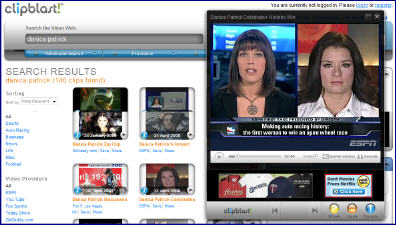 If the user clicks on the first result with a "Play" icon (with a rollover that says "play this video directly"), Playbox opens. In this example, the first video is from ESPN. When it's over, the user can click the "Details" button and a list of additional, related videos are displayed, from other providers such as AP, VidLife, YouTube, YES Network, etc. The point is that Playbox provides an easy-to-use container where related 3rd party videos can be played without the user ever leaving the auto racing blog.
So Playbox gives videos new exposure throughout the web. Again, if providers code their ads into the file, more views = more revenue. The Playbox window also shows small display ads at the bottom, which ClipBlast monetizes through ad networks. Depending on the video and search term, these slots lend themselves to contextually-targeted ads.
Playbox marries video search and video syndication, and is another mechanism for how video is going to be widely distributed around the web. I expect more of these initiatives to come.