Thursday, March 3, 2016, 9:16 AM ET
|
Here's a surprise: a survey of over 100 agencies, advertisers and publishers, conducted by Forrester Research and commissioned by Videology, found that respondents believe time spent with both linear TV and pay-TV will increase over the next 3 years.

As the graphic below shows, 49% of respondents see a significant or moderate increase over the next 3 years in watching TV at the time it is broadcast, up from just 27% when surveyed in 2013. 23% believe viewing time will remain the same (vs. 21% in '13) and 28% think it will significantly or moderately decrease (vs. 52% in '13).
As if that wasn't sufficiently eye-catching, 46% of respondents believe time spent watching TV via an antenna or cable/satellite provider will significantly or moderately increase over the next 3 years (vs. 23% when surveyed in 2013). 25% think viewing via an antenna or cable/satellite will stay the same (vs. 27% in '13) and just 29% think it will decrease (vs. 50% in '13).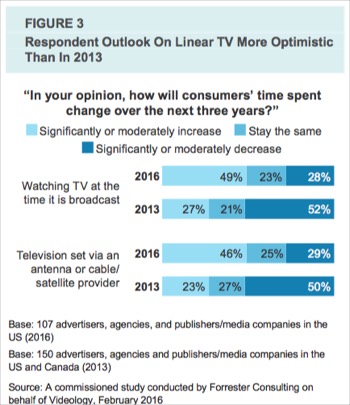 Forrester didn't elaborate on what's behind the surprising numbers, except to say that respondents may not believe non-linear viewing (which is also expected to rise over the next 3 years) will really cannibalize linear viewing. Forrester thought this might be attributable to the strong quality of linear TV. I have to admit I'm quite surprised by the numbers, which seem counter-intuitive to current trends and anecdotal evidence.

Forrester also found strong consensus that ad spending will shift from linear TV ads to new video options, video buying will emphasize programmatic approaches, technology will be a big differentiator and all advertising will become more direct response-oriented.

Respondents also indicated that the video measurement landscape is highly fragmented and creating challenges for all players. 76% of publishers said that over the past 3 years they've increased the number of measurement providers they work with, while 57% of advertisers and agencies have increased their measurement providers. Just 20% of advertisers/agencies and 6% of publishers have decreased measurement providers over the past 3 years.

The biggest challenge respondents identified in online video advertising remained managing the different technologies/formats for ads on different devices (cited by 69%, up from 60% in 2013). That was followed by understanding cross-platform viewing behavior of my audience (54%, up from 50%) and measuring campaign performance (54%, up from 26%).

I'll post a link to the full report when it's available.