Tuesday, October 8, 2013, 10:05 AM ET
|
For busy video industry executives, tracking and making sense of the dizzying array of video industry-related research and reports released on an almost daily basis has become impossible. Yet, the data is extremely valuable because it often provides critical insights into the fast-changing video landscape.

To address this growing problem, today I'm thrilled to announce an exciting new initiative - "VideoNuze iQ" - a dedicated editorial hub for video industry research, data and analysis. VideoNuze iQ is meant to be a trusted, comprehensive, go-to resource that industry executives can rely on to keep them up-to-date on relevant data and/or as a valuable tool to support their own research, presentation and sales support needs.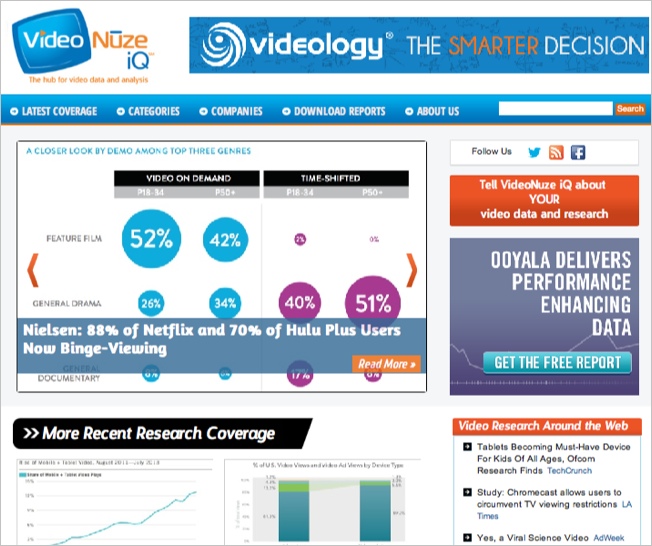 For over 6 years, a key part of VideoNuze's mission has been to report on and analyze industry research. But now, with 240 original posts and almost 1,300 curated links to 3rd-party coverage in VideoNuze's Research section, it has become too sub-optimal for VideoNuze readers to quickly find the data they're looking for.

VideoNuze iQ solves these discoverability issues by surfacing on the home page - in a highly visual manner - new original research-related posts and curated 3rd party coverage. VideoNuze iQ is also a platform for even stronger editorial coverage of newly-released research and reports (attention research providers!). The site is browsable by categories (e.g. advertising, VOD, etc.) or by research provider / company name. It is also searchable by keyword.

In addition, on the main navigation bar, a "Download Reports" tab reveals a directory that already contains links to over 45 downloadable industry reports/infographics from dozens of research providers, by date and with accompanying media coverage. Simply click on a report's cover image and either the report opens or the relevant download form is revealed. Based on feedback I've received, I expect that this VideoNuze iQ feature alone will save industry executives tons of time currently wasted hunting around the Internet for useful vdeo data.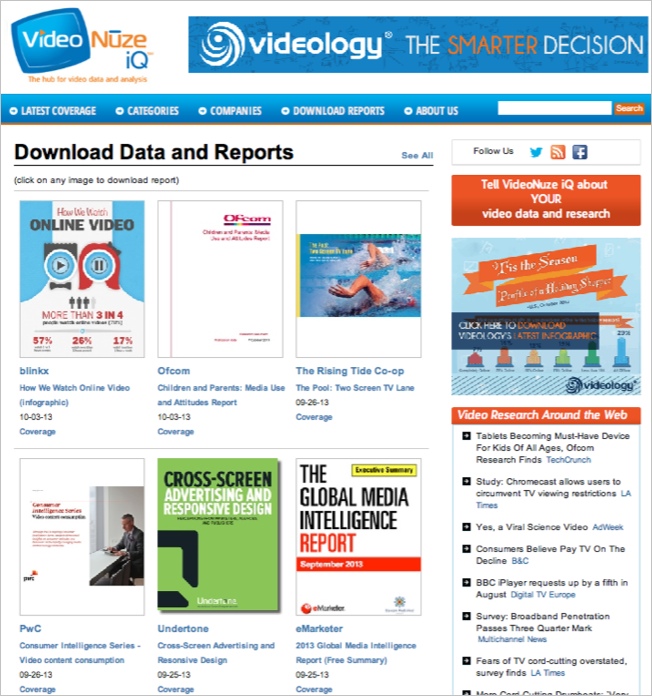 Many industry executives have been generous in providing input on VideoNuze iQ over the past few months, for which I'm very appreciative. Like VideoNuze, VideoNuze iQ is free to readers and sponsor-supported. I'm extremely grateful to Videology and Ooyala, which are the site's charter sponsors (contact me for additional sponsorship opportunities). Both companies supply some of the best industry research around, and I encourage you to check it out.

As with any new initiative, VideoNuze iQ is just a starting point; I have many ideas for additional features and enhanced usability. I'm very proud of this first version of VideoNuze iQ and, as with VideoNuze, I believe it will make a significant contribution to industry executives' understanding of the rapidly evolving landscape.

Please have a look around VideoNuze iQ and follow on Twitter at @VideoNuze_iQ. I welcome your feedback and look forward to working with you.