Friday, December 15, 2017, 10:36 AM ET
|
Connected TVs and set-top box delivered VOD together accounted for 49% of premium video ad views in Q3 '17, according to FreeWheel's newest Video Monetization Report. The combined share is roughly stable over past year. However, STB VOD grew 54% year-over-year (with its share now up to 20%), while connected TV gained 47% YOY (with its share now 29%).
Together, FreeWheel has dubbed the devices the "new living room," and the new Q3 data underscores the trend toward viewers consuming premium live and on-demand content on the big screen, which in turn is creating massive new ad inventory. (Coincidentally just yesterday, I covered SpotX news revealing that 30% of ad spend on its platform by year-end will be on OTT inventory)

Also significant in Q3 was that video starts grew by 30% YOY, the biggest increase since Q3 '16 and the 27th consecutive quarter of growth. Full episode views were up 29% YOY and live broadcasts were up 26%. Sports has traditionally been the big driver of live, but in Q3 FreeWheel found that live news and entertainment doubled their share of ad views, now amounting to 25% of total live. Connected TVs had the highest share of live ad views at 37%.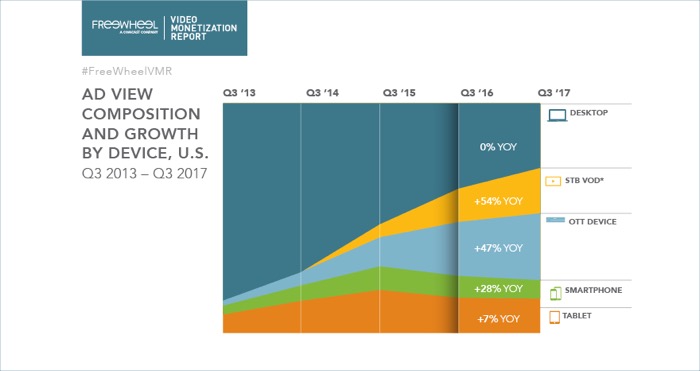 FreeWheel also noted a big shift in syndication strategies by premium content providers away from long-tail distributors (where monetization dropped by 55% in Q3 YOY), gravitating instead to MVPDs (up 67% YOY), virtual MVPDs (skinny bundles) and subscription services.

Meanwhile, programmatic continued to increase in popularity, up 19% YOY to a 13% share of overall monetization, while direct sales still dominated with 87%. FreeWheel said that for a sample of its clients that use its SSP, 93% of programmatic monetization happened in private marketplaces with strong brand safety, compliance and control.

Once again, the Q3 VMR also includes a full analysis of premium video monetization in Europe. The VMR can be downloaded here.