Tuesday, May 26, 2009, 9:05 AM ET
|
Last week's latest Nielsen A2/M2 Three Screen Report confirmed what I've been saying for a while: when it comes to characterizing changes in consumers' overall video behaviors, "evolution" is a better descriptor than "revolution." To be sure there are certain age segments and behaviors where change is happening very fast. But the overall Nielsen tracking data suggests that until a significant catalyst comes along, major market changes will play out quite gradually.
I've been tracking Nielsen's periodic releases of its Three Screen reports since last year, and the graph below captures the data during this period.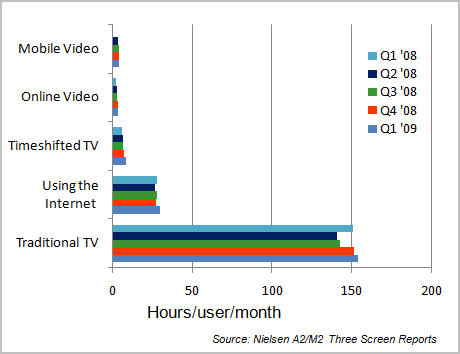 No surprise, time spent watching online video experienced the biggest year-to-year jump (53%) to 3 hours/month. That's solid growth, but even at this rate, it would be a long time before online video viewing takes a significant overall share of the video market. Part of the reason is that time spent on traditional TV just keeps on increasing, nudging up almost 3 hours in the last year to almost 153 1/2 hours/month. That trend has to keep a lot of TV executives smiling.
Still, industry participants have to be watching younger viewers, where adoption of alternate viewing platforms is on the leading edge. For example, 18-34 year olds consume 70% more online video (5 hours, 7 minutes per month) than average, 12-17 years consume 85% more mobile video (6 hours, 30 minutes per month) than average and 25-34 year olds consume 109% more timeshifted TV (12 hours, 12 minutes per month) than average. All of these segments are most coveted by advertisers and their more-rapidly shifting behaviors are clearly (and correctly) driving major media to experiment with new broadband and mobile models.
The "x factor" that would scramble these trends is the introduction of significant market catalyst, like the iPhone, which has ignited mobile video market. In online video viewing specifically, a market catalyst would be a convergence device or enabler that would allow seamless broadband connectivity to TVs. I've talked about this a lot on VideoNuze, and there are many different approaches underway. When one begins experiencing serious adoption, as the iPhone has, I expect Nielsen Three Screen Data will reflect it.
Until then we can expect broadband, mobile and timeshifting to have a significant, yet gradual impact on the overall market.
What do you think? Post a comment now.