Tuesday, April 27, 2010, 9:30 AM ET
|
Online video platform Ooyala has unveiled an interesting new feature that allows its customers to add videos from YouTube to their Backlot account and then have them displayed right alongside their own videos in their Ooyala player. All of the analytics that are available for the customer's own videos extend to the YouTube videos as well. Alex Holub, senior product manager at Ooyala gave took me on a quick tour last week of how it works. It appears simple and well thought-out.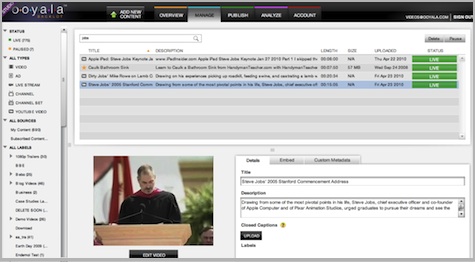 Alex explained that the impetus here was that a lot of Ooyala customers were already trying to incorporate YouTube videos, but there wasn't an easy or integrated way to do so. With the new feature, a customer can search and gather relevant YouTube videos from within the Backlot platform and then add them to their account, where they can subsequently add metadata. The videos can also be syndicated along with other owned video. The YouTube videos are displayed in a chromeless player, which means the Ooyala look and controls remain. The main thing that separates the YouTube videos is that per YouTube rules they cannot be directly monetized. So Ooyala's ad rules pre-empt any pre-roll or overlays; instead on-page ads only are allowed.
Ooyala's move is further recognition of valuable YouTube's library has become for many publishers. There is just so much content on YouTube, and tons more being added every day that is freely available that for many YouTube is an irresistible augment to their own content. The only other OVP that I'm aware of that has done something like this with YouTube and other sources is Magnify.net, with has been all about enabling its customers to curate the best video from around the web from the outset. I expect we'll see other OVPs offer this capability too.
Ooyala is offering the new YouTube feature free until May 31st for customers.
What do you think? Post a comment now (no sign-in required).