Thursday, February 3, 2011, 9:03 AM ET
|
FreeWheel, the video technology company, is launching its second product today, "RPM" - Revenue & Payments Management - to streamline the complex back office financial processes associated with distributing premium-quality online video. Last week FreeWheel's co-CEOs and co-founders Jon Heller and Doug Knopper walked me through RPM and how it relates to the company's flagship Monetization Rights Management ("MRM") product.
At a high level, RPM's goal is to help media companies make sure that everyone who's supposed to get paid when online video is monetized actually does get paid - accurately, efficiently and regardless of what business models were used. As Jon explained, the problem today is that the headaches are multiplying for the financial staff in the trenches who are dealing with increasingly complicated online video monetization/distribution that involves multiple stakeholders. The hodgepodge of spreadsheets and various proprietary systems is beginning to impede business getting done. As a former CFO himself, Jon knows first-hand that when the financial team can't accurately track what the product/sales teams are doing without adding a lot of new overhead, things are going to come to a grinding halt.
As these financial tracking challenges have mounted, FreeWheel has often found itself in the middle of the conversation, because its MRM product is relied upon by many major media companies to manage and serve ads, often syndicated across 3rd parties and on a variety of terms. FreeWheel didn't see anything in the market that addressed this growing pain point and therefore set out to create a solution.
In a sense RPM is an overlay on MRM; it sits at both the front-end of the advertising or distribution process, where new contract details and business rules are entered into RPM, and at the back-end where invoices to advertisers, payables to partners and other financial obligations must be output (see graphic below). In the middle of the financial work flow the operational details of the deals are factored in: the relevant distribution sites, ad servers, business models being used, devices targeted, stakeholders, etc. For existing FreeWheel customers, MRM would be partly or fully supporting these operational roles. RPM also has full APIs, so it can be integrated with other work flow elements. Last but not least, RPM comes with full analytics so those responsible for financial management and forecasting understand the status of receivables, payables and other items.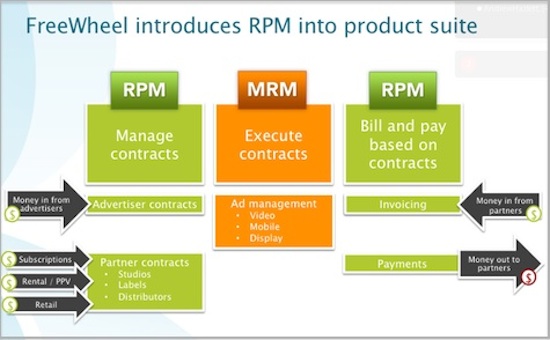 From a user experience standpoint, Jon described RPM as being engineered like an Excel spreadsheet. There are pre-defined line items to easily populate, but also the flexibility to customize based on specific deal terms and unique stakeholders. Another key element to RPM is that it is dynamic; as deals inevitably change from signing through ultimate implementation, updates can be made and downstream processes will stay in synch. As a result the risk of human error, which is often the cause of discrepancies when changes occur, is reduced.
As an analyst following the constant flow of content deals around the industry, I don't even need to summon my "inner accountant" to sense how complicated the back office has become. To consider just one example, take the distribution deal announced between Viacom and Hulu late yesterday. In it, multiple programs and clips from multiple networks are being distributed by Hulu, some for free at Hulu.com and some under the Hulu Plus subscription model. All of the resulting activity must be tracked, and per their contractual terms, payments made to underlying stakeholders. And that's just one deal for each company; both have scores of these with other partners. Each time a new deal is added or announced, there's more new tracking to be done.
To get a size of the problem, Jon estimates that as much as 25-30 cents of each dollar spent on buying media against online video may now be lost to inefficiencies in the financial tracking of these deals. That compares to his estimate of just 10-11 cents of each dollar spent in traditional TV advertising. For any media company trying to make a profitable business out of online video, RPM is arriving not a moment too soon.
What do you think? Post a comment now (no sign-in required).